Ironwood 885 Pellet Grill
ELEVATE YOUR CRAFT WITH THE IRONWOOD
It's loaded with additional features to help you take your cooks to the next level. Double-sidewall insulation maintains steady heat levels to give you even more consistent results, while Super Smoke Mode lets you amp up the wood-fired flavor with the press of a button.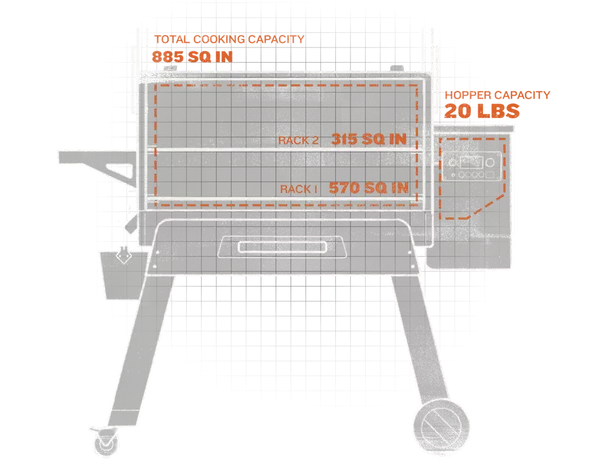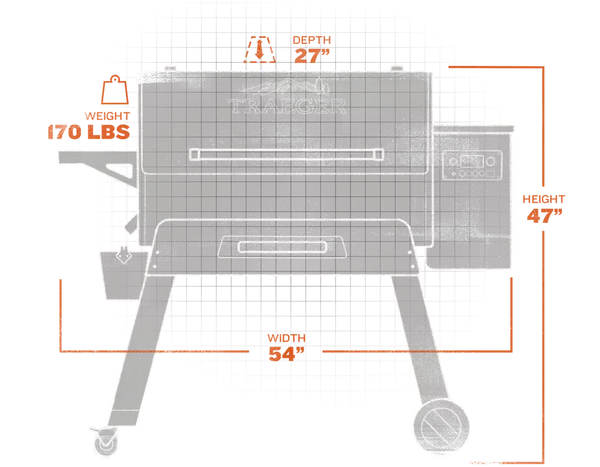 FEATURES
Downdraft Exhaust & Super Smoke Mode
Pellet sensor
Dual Position Smoke/Sear Bottom Grate
WiFIRE Technology
D2 Grill Controller
Double Side Wall Interior
Included Meat Probe
Porcelain-Coated Grill Grates
All-Terrain Wheels
Locking Caster Wheels
Grill Tool Hooks
CONTROL YOUR GRILL FROM ANYWHERE
WiFIRE® Technology lets you monitor your cooks, adjust grill temperature, and access over 1,600 recipes through the Traeger App or select smart home devices.
WOOD-FIRED COOKING MADE SIMPLE
D2 controller with digital display makes setting grill temperature as easy as turning on an oven and allows you to adjust temp in 5°F increments.
UNRIVALED WOOD-FIRED FLAVOR
Downdraft Exhaust® System keeps fresh smoke flowing over your food to ensure the best possible wood-fired flavor.
CRANK UP THE FLAVOR
Super Smoke Mode increases the amount of smoke with the push of a button when you want maximum wood-fired flavor.
CONVENIENTLY MONITOR YOUR COOK
Included meat probe lets you monitor food temperature without lifting the lid.
EASY TO MOVE
Rugged all-terrain wheels easily conquer any backyard terrain.
GETS HOTTER, FASTER
TurboTemp® improves startup time and helps grill temperature recover more quickly after lifting the lid.
Shipping
Shipping on all orders in the United States will be based on your location and calculated during checkout.
Customer Support
All returns must be arranged with our Customer Service Department and be assigned a Return Authorization (RA) number. Contact us or call (330) 468-0303
Secure Payment
Our SSL help protect your sensitive information such as credit card details—by making them private and confidential—from being stolen by malicious users over the internet.
30 Days Return
Our Return Policy makes it easy for you to return your new, unused products for a FULL REFUND. We ask only that you pay for the return shipping.